Polywood Shutters Are The Energy Efficient Window Treatment Of Choice
Windows are a large source of energy loss. Polywood Shutters, with their Polywood® Shutter Insulating System, offer a large reduction of heat transfer and thermal resistance. Polywood shutters are known as energy-efficient window treatments that can help save money on energy bills.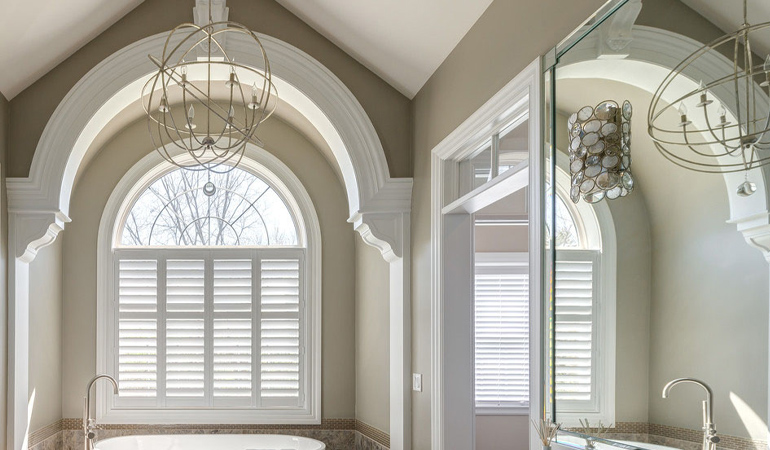 When closed, Polywood's louvers have become a barrier to wind and variable temperatures. Other window treatments such as shades, blinds, and draperies have some difficulty blocking heat and energy loss. But the sturdy louvers of
plantation shutters
can trap air so it cannot escape through the window. Polywood® shutters especially work well in maintaining a room's temperature control.
The Polywood Shutter Insulation System
Interior shutters are the top energy-efficient window treatment. Polywood shutters take it one step further with their patented insulation system.
The Polywood Shutter Company carefully crafts every Polywood Shutter with energy efficiency in mind. The specialty solid polymer material can block airflow because of its durability and density. This faux wood acts as a natural insulator. The sides of the shutters have weather-stripping pieces that seal to block as much light and temperature as possible. This effectively reduces heat transfer at the edge of the panels in both the summer heat and winter cold. And the heat-resistant paint means that the Polywood shutters won't warp, crack, or splinter, or change how they stop heat loss.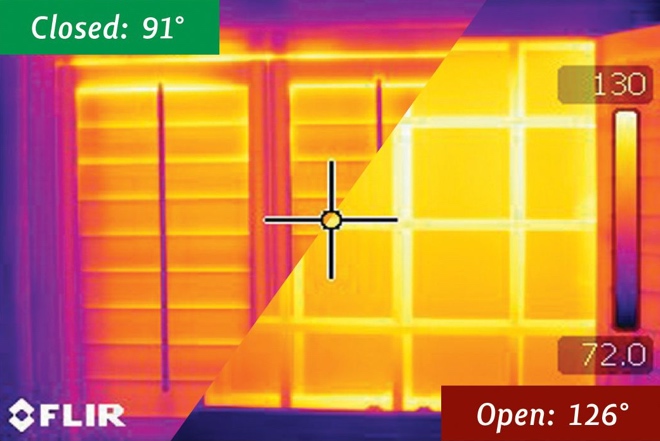 A third-party thermal test (forward-looking infrared) showed that the Polywood Shutter Insulating System blocked as much as 30 degrees of temperature coming through the window.
Here's how Polywood shutters maintain their energy efficiency:
Stops Air Flow. Polywood's thermal protection blocks up to 30 degrees of airflow that passes through a window.

Maximizes R-Value. Polywood has an R-Value of over 6 in a double-pane window. That's the highest thermal resistance rating of insulation material compared to other wood and faux-wood shutters.

Reduces Heat Transfer. Polywood offers a 45.96% reduction in heat transfer.

Boosts Energy Efficiency. Polywood is up to 70% more energy-efficient than wood shutters and up to 1600% more energy-efficient than aluminum blinds.

Resists Moisture and Humidity. Polywood resists the moisture and humidity that can damage a shutter and impact the temperature of a room.
The Polywood Shutter Insulating System incorporates all of these energy-efficient features within each shutter panel. Ask your retailer for more information about Polywood shutters and their energy-efficiency benefits.
How to Close A Polywood Shutter for Complete Temperature Control
To properly close the Polywood shutter panels, swing them toward the window. Gently push the panels into the shutter frame to ensure that the pieces of weatherstripping interlock along the vertical ends of the shutters.
To properly close the louvers, push the tilt rod toward the louvers and check that the top of the tilt rod will fit into the "mouse hole," which is above the top louver. This can be achieved by running a hand up the tilt rod, pushing in as you go. This method works especially well for taller shutters. Sometimes a soft push at the bottom of the tilt rod isn't enough and doesn't close gaps at the top.