Reclaimed Wood Shutters: Crafted From Eco-friendly Materials For Contemporary Windows
The distressed appearance of these Reclaimed Wood Shutters pairs windows with a natural look and plantation shutter functionality. Available in two different louver sizes, each shutter panel has a unique, rustic feel. These Reclaimed Wood Shutters are also sustainable, using materials repurposed from wood buildings, barns, fences, and other items.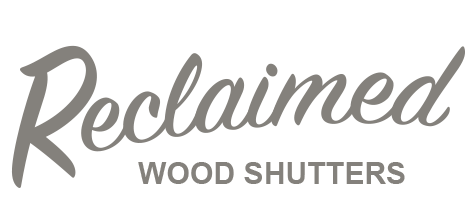 Because of the sourcing and restoration of the wood, each panel will vary in color. The Polywood Shutter Company builds the shutters to highlight the wood's history and natural quality. The louvers are still functional, like any plantation shutters. They can tilt open to let in natural light or tilt close for privacy and energy efficiency. Ask your retailer about warranty information on the Reclaimed Wood Shutters and any other Polywood Shutter Company product.
Every Panel Is Unique In A Reclaimed Wood Shutter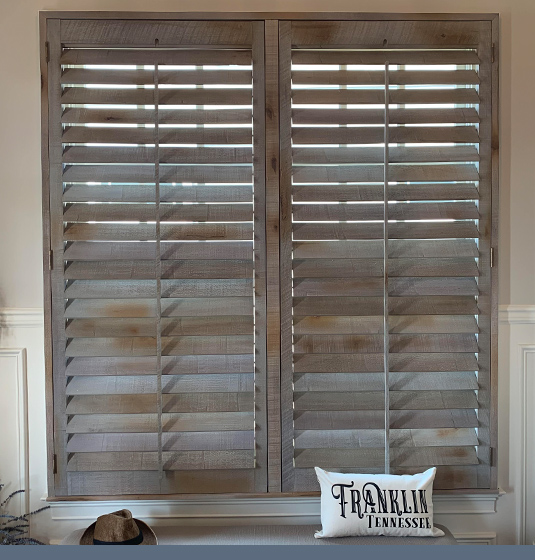 Reclaimed Wood Shutters are hand-crafted from salvaged wood from barns and buildings across America. The natural weathering process gives color variations throughout the shutter. Through this process, each panel has a unique look that works well in many modern decors.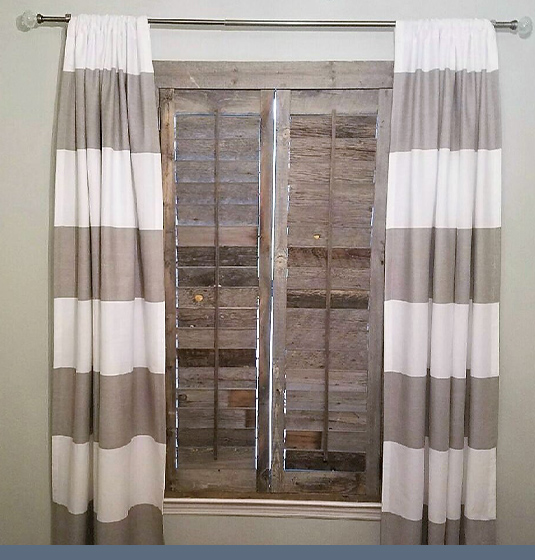 Reclaimed Wood Shutters from the Polywood Shutter Company are available in 3.5 and 4.5″ louvers with standard shutter frame options. Even though the wood is salvaged from fences, barns, and other structures, the louvers are thick and solid. Tilt the louvers to direct light by using the center tilt rod, just like any other interior shutter.
Reclaimed Wood Shutters Warranty
We have tested our shutters and window treatments repeatedly. And every time, they've successfully kept their structure and integrity. Talk to your retailer to learn more about the reclaimed wood shutters warranty.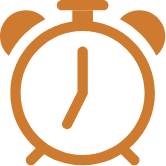 Limited Warranty
Reclaimed Wood Shutters are custom-crafted to fit any window size and dimension. They work well for standard windows as well as bay windows, French doors, sidelights, and sliding glass doors. They come in two louver sizes: 3.5" and 4.5", and in two frame types: a Craftsman Z frame and an L frame. Even though the reclaimed wood may look weathered, the louvers are not brittle and will fully open and close. The shutter panels will also fully open and close like any plantation shutters.
How Can You Order Reclaimed Wood Shutters From The Polywood Shutter Company?
Contact your retailer for more information on Reclaimed Wood Shutters from The Polywood Shutter Company. They can show you samples of the product, measure your windows, and provide pricing and warranty information.